PROTECTED MARINE AREA OF TORRE GUACETO
15 km north of Brindisi, it is a true paradise on earth where the color of the sea, the land and the flora compete to catch the eye of the observer. The name of the reserve, marine and terrestrial, derives from the presence of an Aragonese watchtower, now the fulcrum of ecotourism activity and the Arabic expression al-gawsit, a place of fresh water, evidence of underground springs. Dunes, coves and islets characterize the stretch of coast lapped by a transparent sea with intense shades of blue, visited by dolphins and turtles. The beach and the dunes behind are the bridge between the sea and the land covered with shrubs smelling of the Mediterranean scrub and, in the interior, with oaks and pines.
HOW TO REACH IT               
                                                                                                                                                                                                                  SS 379 BRINDISI/BARI –  SERRANOVA EXIT
FOR MORE INFO   
tel. 0831 990882      segreteria@riservaditorreguaceto.it
TORRE GUACETO  TOURIST CENTRE
Via Piazzetta A/32 – 7201,  Serranova  – Carovigno (BR)
Tel. 0831 989885             info@riservaditorreguaceto.it                  www.riservaditorreguaceto.it
Apertura tutto l'anno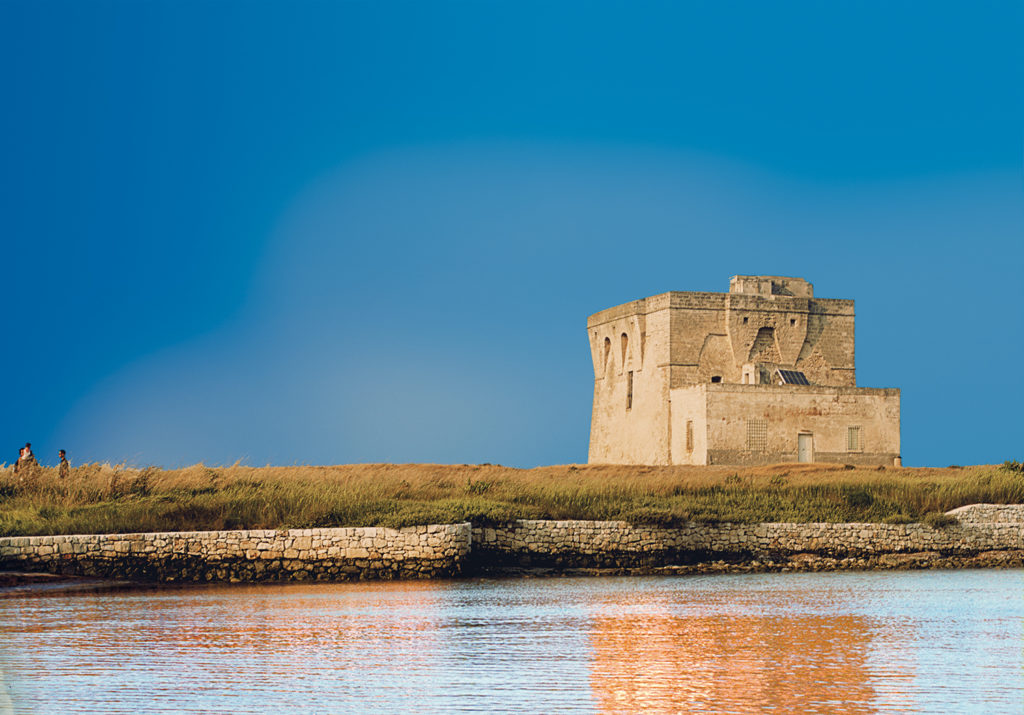 REGIONAL NATURE PARK DUNE COSTIERE DA TORRE CANNE IN TORRE SAN LEONARDO
The regional park includes 6 km of coastline and proceeds towards the plain of ancient olive trees following the course of some blades, the deep cracks of the terrain typical of the karst landscape. From the sea to the hinterland there are different environments: the beach, the dunes, the wetlands of Fiume Grande, Fiume Piccolo and Fiume Morelli, the fossil dunes and the centuries-old olive trees with twisted and hollow trunks, gnarled giants folded in original shapes eccentric fantasy of nature. The abandoned Fontevecchia railway station has been transformed into the "Casa del parco", a visitor center where it is possible to gather information and take part in guided tours and excursions.
HOW TO REACH IT                 
                                                                                                                                                                                                          ss16, km 870, 72017 Ostuni BR
info@parcodunecostiere.org
REGIONAL NATURE RESERVE BOSCO DI CERANO
Among the regional reserves the forest of Cerano or Tramazzone, a peaceful oasis where you can get lost in the shade of oaks and pines and forget all anxiety, spread over a surface of one thousand hectares, in the territory between Brindisi and San Pietro Vernotico.
HOW TO REACH IT
SP87, 72027 San Pietro Vernotico BR
REGIONAL NATURAL PARK OF THE SALINE OF PUNTA DELLA CONTESSA
The Regional Natural Park of the Salt Pans of Punta della Contessa has a fascinating and unusual history: it was a salt deposit between the thirteenth and the eighteenth century and the salt produced was given to the citizens of Brindisi to favor the repopulation in the times of King Ferdinand of Aragon (1465-66). Today this enchanted place is transformed, in some periods of the year into a piece of Africa ", stage chosen by hundreds of migratory birds: pink flamingos, swans, herons waiting to resume the journey to the south.
HOW TO REACH IT
Strada per Pandi, 72100 Brindisi